Hello Friends

o

f

the QuiltBug,




We are open

Mon-Sat 10 to 5

and you are welcome to come into the shop to look for fabrics and supplies.

We continue to offer Curbside pick-up if you would like. Class list and availability is on our site at QuiltBug.com
Here's What's Happening at the Bug!


New this week:
Holiday fabrics!

We have a beginners applique class coming up Sat. July 25th with Kathryn Greenwold, this is a calm and fun form of quilting. No major investment to learn, it's a great way to use up scraps!





Have you wanted to take a Beginners Applique class? Hand work and machine applique. You will learn needle turn applique and reverse applique. Class cost is $40.


Did you know, Thursdays we have room for a quilting group to use our classroom area. It's open Thursday's between 10:30 to 2:30 and we only charge $5 per member of a group to use the classroom area. If your group wants a place to meet, we have the space for up to 6 people. Contact Ann at 518-280-2586 to use reserve the time and space. We have weekly or monthly slots.


Friday's we've added a new class called, Sit and Sew with a Pro!
Come on in from 10 to 1 and get assistance with your projects.
Class Fee is 15$ and you will be able to finish up all the loose end projects you have. You could also make a new project and have guidance from one of our Pro's. Please sign up on line at QuiltBug.com under classes!

Passport cost is $7.00 please pay with cash.




Quilter's Quest Shop Hop has new dates:

Aug. 13 thru the 23rd! The new Shop Hop hours are Mon - Sat 9 to 5 and Sunday 12 - 4.

Mark your calendar for a little bit of summer fun!
The passports are available to purchase now! The Shop Hop includes 7 shops: Adirondack, Brookside, Karen's, KC Framing, Log Cabin, Pumpkin Patch and QuiltBug. This year the Grandprize is a Pfaff Ambition 620 Sewing Machine!



Quilter's Trek (RowXRow): The

start date for the Quilters Trek has changed to June 21 and it will conclude on September 8! This year shop kits can be ordered on-line!

If you'd like to read up on this years's trek go to the Quilter's Trek website:

https://rowbyrowexperience.com/quilters-trek/

,The New Quilt Challenge Dates that you are allowed to hand in your quilt are July 15 - October 15. Trekkers may create a quilt using a minimum of (32) 9-inch QTrek designs from at least 8 participating QTrek stores. Trek on and have fun!



Quilts for Kids the Albany Chapter creates quilts for kids at the shop. This group typically meets once a month on the second Sunday from 12 to 4. The next session of Quilts for Kids will be in Sept. Quilts for Kids is a nonprofit organization dedicated to transforming fabrics into patchwork quilts to comfort children facing serious illness, trauma, abuse and natural disasters. Please go on line to sign up under classes. There is no cost to join us and you will be provided the quilt kits to work on. What a great cause and QuiltBug is very excited to be involved. You must Sign up on-line or call the shop at 518-280-2586 to hold a seat. If you have not pre-registered you may not come to the shop and join casually. Going forward the group size will be limited due to social distancing.

Top off Day with Robbie Sutton our Long-Arm Quilter comes in every other Monday at 1:00 to pick up tops for quilting. She visits over the next month will be back to Mondays 7/2, 7/20.

Feel free to drop off tops at the shop Mon to Sat 10-4, Robbie will give you a call once she is done.




Are you thinking about starting a new hobby? You should give quilting a try, it's relaxing and easy to learn. Join one of our classes and make new friends while being creative! We have a very nice group of quilters that meet weekly and work on projects. Here's what we have happening for classes over the next few weeks.... Classes will open up 6/8, call if you'd like to join one of our groups (518-280-2586)


Tuesdays's 10:00 All Levels $15.00 weekly, you pick your project.
Wednesday's 10:00 Beginners $15.00 weekly, Step by Step instruction.
Friday's @ 10:00 or 1:30 to 4:30 all Levels $15.00 weekly, you pick your project.
Join Sherri on Tuesday's, She has space in her Tuesday quilt group! The group works on projects of individual choice, designing panel quilts and wall hangings, setting bindings, creating new quilt designs, you name it they will try it. This is a fun group that tries lots of things and always finishes projects. Join Sherrie for just $15.00 a week and take advantage of growing your skills with a fabulous teacher.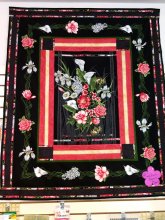 Here's a pic of Sherries latest panel design!

For any of our classes sign up on-line at Quiltbug.com, or call the shop at 518-280-2586!

There are openings in the Beginners class that takes place Wed. morning at 10:00. Don't be nervous everyone starts somewhere! Karen will take you from A to Z in no time at all. It won't be long before you'll be finishing your first quilt! $15.00 a week.
Beyond Beginners: This class is designed to teach an advanced beginner basic quilting blocks and techniques. It will build on the lessons taught and patterns used in the Basic Beginners class. Approximately 4 weeks will be devoted to each block. Class members can always request that a project or quilt block be taught. This group meets Wed's at 1:30. $15.00 a week.
Beginners Combo classes on 2 Saturday's a month- Join Karen, this a combination group of Beginners and Beyond Beginners and they gather on alternate Saturdays from 10 to 1:00. This class will help you learn to sew or take your sewing to the next level. This bi-weekly class will take you from beginner to beyond. Give the shop a call, or sign up on line, and join the fun. You can't beat this price, just $15.00 a class, that's only $5 an hour! Perfect!


During Quiltbug classes we will follow COVID safety expectations:
COVID Classroom expectations:
Class size will be limited to no more than 5
Each student will have their own table to work at and will provide their own tools

Please wear a mask

Bring your own pins, scissors, rulers and supplies for the class. We will not be sharing tools during classes.

Please sanitize your machine and tools prior to bringing them to a class