Hello Friends of the Quiltbug,
During this challenging time we are fortunate that our on-line shop is available 24/7. Thank You to those that have been shopping on-line. We have kept

our shipping prices low, and we offer free shipping for the next few

weeks on orders over $50.

If you'd like free curbside Pick-up the days that is available at the shop
Mon., Wed., and Fri. from 10 to 4.
During the past couple weeks we have added many new fabrics to our shelves. Take a look, the colors are pretty true to the actual bolt and, you can be assured that, I only buy top quality.

If you have any questions feel free to email me at quiltbug.com@gmail.com. Stay Calm and Quilt On!
Ann

The shop is presently closed to walk-in customers, all scheduled classes are cancelled until the end of April at which time we will re-evalate where we stand with the virus. President Trump has issued a continuance of "social distancing until end of April." We'll be watching to see what transpires for re-opening small businesses.




The QuiltBug hours are order Pick-up days Mon,Wed & Fri, 10:00 AM to 4:00 PM. Closed on Sat and Sun.

visit our website often, as you know, we are still filling the shop and new Fabrics are arriving weekly.

Here's What's Happening at the Bug!
QuiltBug's is hosting a Corona Brown Bag Challenge!
Only $16.50 per bag😊
This is going to be fun, let's past this time together having fun!
Winner receives a $25.00 Gift Certificate to the QuiltBug!
Get your Creative Juices Flowing… Purchase on-line and do curbside pickup or I will ship it for $5.00
Purchase a brown bag of fabric (no peeking), use the fabrics inside to create a quilt or a quilted item (purse, wall hanging) with the enclosed fabrics. You may add in one neutral fabric in light or dark but not both. That neutral can be more, or less than a fat quarter in size.
The item you create must measure a minimum of 20″ square or 40″ square not bigger! The quilt/item doesn't necessarily have to be square, but it must fall within these measurements. No side smaller than 20" or larger than 40".
Bring the finished quilt/item (quilted, bound and labeled) to the shop when the shop reopens/virus is over. (Date TBD, I'll reach out). Get busy hopefully you only have a couple more weeks. Get started right away!
The Items will be voted on by the customers of the QuiltBug for two weeks.

Passport cost is $7.00 please pay with cash.


Shop Hop is right around the corner! May 28th-June 7th
Monday March 2nd the passports will be available to purchase! The Shop Hop includes 7 shops: Adirondack, Brookside, Karen's, KC Framing, Log Cabin, Pumpkin Patch and QuiltBug. This year the Grandprize is a Pfaff Ambition 620 Sewing Machine!



Quilter's Trek (RowXRow):

We don't know what is coming over the next few weeks with Virus so f

or this reason, the organizers are pushing back the start date of Quilters Trek to the original RxR start date of June 21.


If you've liked to read up on this years's trek go out to Quilter's Trek website:

https://rowbyrowexperience.com/quilters-trek/



Postponed:

New date to be determined.

Tamara added another Free Motion class to the Calendar, March 20th! it will fill up fast, give the shop a call 518-280-2586 or go on-line to reserve your seat!




QuiltBug has a discount tote bag! Make and shop with it the first Thurs. Fri. and Saturday of a month and get 20% off. Stop in and get your QuiltBug Discount tote bag! Take the class to make the bag with Tamara or purchase the kit and make it yourself (the tote must be made from our kit). Check on line for the classes. They will be offered each month for $5.00 by Tamara.
The next Quilts for kids session will be in June (dateTBD}: Quilts for Kids the Albany Chapter will create quilts for kids at the shop. This group will meet once a month on the second Sunday from 12 to 4. Quilts for Kids is a nonprofit organization dedicated to transforming fabrics into patchwork quilts to comfort children facing serious illness, trauma, abuse and natural disasters. Please go on line to sign up under classes. There is no cost to join us and you will be provided the quilt kits to work on. What a great cause and QuiltBug is very excited to be involved. You must Sign up on-line or call the shop at 518-280-2586 to hold a seat.

Top off Day with Robbie Sutton our Long-Arm Quilter comes in every other Monday at 1:00 to pick up tops for quilting. She visits over the next month TBD.

Feel free to drop off tops on Mon, Wed or Fri 11-3, Robbie will give you a call once she is done.




Are you thinking about starting a new hobby? You should give quilting a try, it's relaxing and easy to learn. Join one of our classes and make new friends while being creative! We have a very nice group of quilters that meet weekly and work on projects. Here's what we have happening for classes over the next few weeks.... (once we reopen)

Tuesdays's 10:00 All Levels $15.00 weekly, you pick your project.
Wednesday's 10:00 Beginners $15.00 weekly, Step by Step instruction.
Thursday Mornings 10:00 with Tamara all Levels $15.00 weekly, you pick your project.
Join Sherri on Tuesday's, She has space in her Tuesday quilt group! The group works on projects of individual choice, designing panel quilts and wall hangings, setting bindings, creating new quilt designs, you name it they will try it. This is a fun group that trys lots of things and always finishes projects. Join Sherrie for just $15.00 a week and take advantage of growing your skills with a fabulous teacher.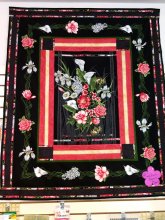 Here's a pic of Sherries latest panel design!

For any of our classes sign up on-line at Quiltbuc.com, or call the shop at 518-280-2586!

There are openings in the Beginners class that takes place Wed. morning at 10:00. Don't be nervous everyone starts somewhere! Karen will take you from A to Z in no time at all. It won't be long before you'll be finishing your first quilt! $15.00 a week.
Beyond Beginners: This class is designed to teach an advanced beginner basic quilting blocks and techniques. It will build on the lessons taught and patterns used in the Basic Beginners class. Approximately 4 weeks will be devoted to each block. Class members can always request that a project or quilt block be taught. This group meets Wed's at 1:30. $15.00 a week.
Beginners Combo classes on 2 Saturday's a month- Join Karen, this a combination group of Beginners and Beyond Beginners and they gather on alternate Saturdays from 10 to 1:00. This class will help you learn to sew or take your sewing to the next level. This bi-weekly class will take you from beginner to beyond. Give the shop a call, or sign up on line, and join the fun. You can't beat this price, just $15.00 a class, that's only $5 an hour! Perfect!