Sales update:



Effective 9/1/21 there will be a $10.00 minimum charge for Credit Card purchases.
There will be a 5% fee for a Credit Card purchase under $10.00.
Thank You for Shopping at the QuiltBug!

We're excited to announce that we're a SIY - Sew It Yourself Retailer! We'll be offering classes designed for new and beginner sewists or anyone interested in creating fun, easy-to-make projects with a community of creative makers. Learn more at

https://siysewityourself.com



@siysewityourself #siysewityourself.

The QuiltBug's on-line shop is open 24 hours a day and we ship within 24 hours:) Order on-line right now, for a limited time our shipping is FREE when you spend over

$35.00!

Click on the shopping cart above.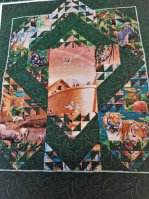 You asked so we delivered, Here comes another Medallion Quilt Class!
September 23rd 10:30 to 4:30. This beautiful wall hanging began as a Noah's Arc Panel and is fussy cut into this piece of art. No special rulers, just pick a panel with lots of activity on it and follow the steps of your instructor!


September 27th join Sherry for Rock Candy Table Topper,10:30 - 2:00.
Rock Candy Table Topper Make this stunning 20 1/2" x 23" Table Topper out of Batiks and the end result is gorgeous! Pattern is included. Class requires the purchase of the SideKick Ruler (available in the store). $45



QuiltBug Sew-in Retreat #2 Sat. & Sun. Nov. 13 & 14 Join us for tons of fun, friendship and quilting fun!
Come Sew at the QuiltBug and head home to sleep in your own bed at night!
Saturday, Nov 13th 8:30 A.M. – 8:30 P.M.
Sunday, Nov 14th 8:30 A.M. – 4:30 P.M
$195.00 for the two days *
Included in the cost – a table, chair, and 4 meals!
Lunch & Dinner Saturday
Breakfast & Lunch Sunday
Enjoy a 20 % discount in the shop all weekend!
Fun activities, raffles and give always!
It is time to get out, gather with friends, quilt, and share ideas!


*make sure you check your calendars, this is non-refundable if you cancel

.

Many of you have been asking when she'll be back again.... Sue Pritt from Sweet Season Quilts will be back

Sat. 11/6

for a

make and take workshop

. Sign up on-line to reserve your seat. This will be a great opportunity to make one of Sue's beautiful applique wall hangings as a holiday gift.



Are you aware that we can have batting drop shipped to you if you aren't local to our shop? Feel Free to call and order any of the Quilters Dream Battings in their many styles and sizes, we'll have it shipped right to you!
Give us a call and we'll get the ball rolling! 518-280-2586


Quilts for Kids the Albany Chapter creates quilts for kids at the shop. This group meets on the 4th Saturday of the month from 10:30 to 2:30. Quilts for Kids is a nonprofit organization dedicated to transforming fabrics into patchwork quilts to comfort children facing serious illness, trauma, abuse and natural disasters. Please go on line to sign up under classes. There is no cost to join us and you will be provided the quilt kits to work on. Please bring your lunch and your mask! You must Sign up on-line or call the shop at 518-280-2586 to hold a seat. If you have not pre-registered you may not come to the shop and join casually. Presently the group size is be limited due to social distancing. This group will not meet in July and August.

Top off Day with Robbie Sutton our Long-Arm Quilter comes in at 1:00 on the first and the third Mondays of the month. She picks up and drops off at this time.

Feel free to drop off tops at the shop Mon thru Sat 10-4. Robbie will give you a call once yours is ready for pick up.





Are you thinking about starting a new hobby? It's relaxing and easy to learn. Join one of our classes and make new friends while being creative! Classes are open and running,

call if you'd like to join one of our groups (518-280-2586).




Tuesday's 10:00 & 1:30 pm All Levels $20.00 weekly, you pick your project.
Wednesday's 10:00 am Beginners $20.00 weekly, Step by Step instruction. Wednesday's 1:30 pm Beyond Beginners $20.00 weekly, you pick your project.
Thursday's 1:30 to 4:30 pm

All Levels $20.00 weekly, you pick your project. Staring in September!


Saturday's
The 1st and 3rd Sat. monthly at 10:00 am Beginners Combo classes.
The Beginners class takes place Wed. morning at 10:00. Don't be nervous everyone starts somewhere! Karen will take you from A to Z in no time at all. It won't be long before you'll be finishing your first quilt! $20.00 a week.
The Beyond Beginners: This class is designed to teach an advanced beginner basic quilting blocks and techniques. It will build on the lessons taught and patterns used in the Basic Beginners class. A Class members can always request that a project or quilt block be taught. This group meets Wed's at 1:30. $20.00 a week.
The Beginners Combo classes on 2 Saturday's a month- (typically 1st & 3rd Sat) This is a combination group of Beginners and Beyond Beginners and they gather on alternate Saturdays from 10 to 1:00. You will either learn to quilt or take your quilting to the next level. This bi-weekly class will take you from beginner to beyond. Give the shop a call, or sign up on line, and join the fun. You can't beat this price, just $20.00 a class.