"Tie"ing Up Loose Ends - Using Men's Ties
Ideas for using mens ties in quilts and other creative sewing projects.
Have you ever been to a garage sale or auction and seen a box full of old silk ties? The fabric in them called to you but you didn't know what to do with them, so you passed them by. If that memory still haunts you, go ahead and buy them next time! Use these tips for making projects out of mens ties.
Silk ties come in different sizes, styles and weights. Try to work with all the same weight if you can. Carefully unpick the stitches on the back of the tie when you take it apart. Remove the lining and the label and save it for use in another project. You should get about an eighth of a yard of silk fabric to work with. Check it over for stains or holes. It's always risky washing silk. Test a small area first. You might be happier just cutting around any stained area, or maybe appliquéing the label over the hole. If the front of the tie is stained, check the back. Sometimes the pattern on the back is just as interesting as the design on the front.
Should you cut off the triangle end? That depends on what pattern you choose. A Dresden Plate design or a three dimensional Dahlia Click on the thumbnail to see this quilt up close can use the end pieces intact. To avoid cutting your ties, try a Dresden Plate or Sunburst design. Leave the end of the tie intact and just sew the edges to a foundation for a three dimensional effect. Why not put the tie label in the center of each circle? Click on the picture thumbnail to the left to see one made by Sr Clementine, CSJ, Rochester NY.
Before choosing a pattern, remember that silk ties are cut on the bias. Bias edges have a tendency to stretch which means you either need to be very careful when handing your cut tie pieces, or you need to stabilize them. This can be done by ironing a very lightweight fusible to the back of the tie before cutting it. Do not try to use fusible interfacing as a foundation - the fusible melts at a lower temperature and will cause your project to buckle.




If you don't wish to add bulk to the fabric, consider sewing your cut tie pieces to a foundation, either paper or fabric. Foundation by the Yard is a fabric panel which is pre-printed with sewing lines. It is the same thing as paper piecing, only you sew on fabric and do not remove the foundation later. This keeps your blocks stable and square. Each panel is 45" x 46", and includes foundation patterns, instructions for piecing, and fabric requirements. There are 13 different styles available.
Choose a pattern for your ties that will use them to their best advantage. Remember that silk ties tend to be narrow and slippery, so choose a pattern that uses narrow strips firmly secured. For example, a sew and flip technique, like a crazy patch. For example, the crazy patch design to the left will make the wall hanging to the right. Use those specialty stitches on your machine to embroider the seams.
Here is a picture of CeCe with her tie block made using the paper piecing pattern above. Click on the picture thumbnail to see it up close.

The log cabin design (below) also uses narrow strips. There are several types of log cabins: the traditional; the off center; the pineapple; and courthouse steps. There is no rule that says an item made with men's ties has to be ALL silk ties. You can mix and match fabric types - if you need to buy additional fabric to make the design work or as an accent, do so!


Traditional Log Cabin
Off Center Log Cabin
Courthouse Steps
Pineapple
How about a Chinese Coin design with the pieces set in black velvet? The miniature done below by Helene L used tie scraps sewn to a foundation using a flip and sew method and a black wool tie for the sashing and borders. Click on the picture thumbnail to see it up close.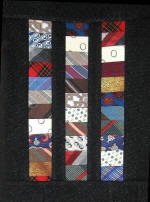 Consider cutting your tie into squares cut on the diagonal of the tie. That puts them back on the straight of grain, doesn't it? Now you can make a simple block quilt.
If you inherited the ties from a loved family member, you could honor their memory by making a mini quilt for Priority: Alzheimer's. This project of Ami Simms is a grassroots effort to raise awareness and fund research to find a cure for Alzheimer's disease by auctioning donated mini quilts. All profit is donated to Alzheimer's research. Quilts must be no larger than 9"x12" so they may fit into a cardboard USPS priority mailer. They are auctioned on the first day of each month at www.AlzQuilts.org. Bids have ranged from $15 to $250.
The picture of the wall hanging to the left is courtesy of Doreen Birnie. See more of her work below.
Do you need batting for your tie quilt? That's up to you! It really depends on what you plan to do with it.
Whatever you choose to do with your ties, enjoy the process - and send me a picture! I would love to show off your project on this page. Be sure to click on the picture thumbnails to see these up close.
Be sure to visit the Artful Ties blog, too. She has some great ideas.