Hello Friends of the QuiltBug!
Lots Happening as we roll into the fall!
We've had new lines arrive over the last week!
Kim Diehl fabrics 7 to be exact!

Colorama II Batiks by Benartex - an entire line!
DryBrush by Wilmington - 13 new colors!

On

September 14th Ann celebrates her 1 Year Anniversary

owning the QuiltBug by sponsering an Open House. All types of fun stuff will be happening that day. Benartex fabrics will be in the shop all day talking about their Batik line. Kathryn Greenwold will be here appraising quilts, and other fun happenings will take place throughout the day! Stop in and celebrate with us!

The QuiltBug is looking for about 5 good, basic, used sewing machines. We'll donate them to a local Senior community that Ann will be visiting weekly in the fall. If you have one that works and is just in need of a tune up, we'd love to have it. This will allow some Seniors to get back to sewing, but more importanly bring them together to socialize with friends over a common hobby. Thanks for your help:)



Sue Pritt Joins in September 21st

for the Barnyard Christmas class, it's a stunner! This class is full however Sue has added and additonal day in November 9th which has seats available.

We kick off the month of October with

A Wilmington Trunk Show

on October 5th. Reserve a seat for this session of quilts and conversations with Wilmington. $5.00 holds your spot and you will receive a $5.00 coupon in exchange to use in the shop.



Snowman Lap Quilt -

Friday Oct 4, 2019 at 10:00 -- you pick the date that works best for you! The

Snowman Lap quilt Ho, Ho, Ho! it's time to prep for the Snow!

Cost: $ 30.00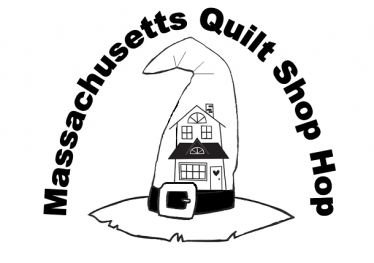 Join the QuiltBug on a Bus trip to the Massachusetts Quilt Shop Hop!
For a list of the Shops participating visit http://www.mass-shophop.com/
Saturday, October 19th!
Leaving the QuiltBug parking lot at 8:00 A.M
Returning around 7:00 P.M.

Bring your lunch, no glass bottles please.

Cost is $39.95 a person, call or visit the shop to sign up

Sign up quickly there only 35 seats available! Sign up under events right on line or call the shop at 518-280-2586
Join Sherri on Tuesday's. She has space in her Tuesday quilting group! The group works on projects of individual choice, designing panel quilts and wall hangings, setting bindings, creating new quilt designs, you name it they will try it. This is a fun group that trys lots of things and always finishes projects. Join Sherrie for just $15.00 a week and take advantage of growing your skills with a fabulous teacher. Sign up on line, or call the shop!
Here's a sample of Sherrie's latest panel topper, "Swimming Upstream", it is a panel and we have all the coordinating fabrics! This is a one of a kind creation by Sherrie.
Tamara has seats open in her TGIF group Friday afternoons!

She has a group that meets to catch up on unfinished projects, or she will guide you while completing a binding or performing free motion on a quilt! Sign up on line, or call the shop!


Do you wanted to learn to sew or quilt? We have the perfect class for you! There are openings in the Beginners class that takes place Wed. morning at 10:00, and Thursday afternoons at 1:00. Don't be nervous everyone starts somewhere!
New Beginner's class - starting this month with Karen

this

Basic Beginners group will gather on alternate Saturdays from 10 to 1:00. This class will help you learn to sew or take your sewing to the next level. This bi-weekly class will take you from beginner to beyond. Give the shop a call, or sign up on line, and join the fun. You can't beat this price, just $15.00 a class.